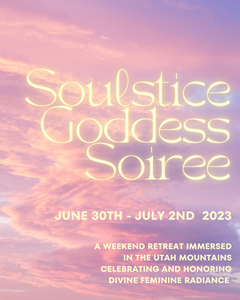 This all inclusive mountain retreat is an investment and divine experience for any and all women interested in tapping into their wild and sensual nature! 
Together we will be creating safe and sacred spaces throughout the weekend, indulging in practices and ceremonies to activate + awaken your innermost divine SELF!
*intention setting opening ceremony
*soul connection (an immersive connecting experience)
*fireside burn and release
*sunrise yoga
*flower essence workshop (and how to utilize this magic)
*womb journey activations (womb massage + yoni steam)
*blacklight sensual dance (a sexy, sensual, fun, and freeing experience)
*sacred sexuality tantra ceremony 
Each goddess will have their aura painted by the very talented, Monica! This special experience will be a take home gift for you to keep and treasure to remember your unique spirit! This paintings intention is to capture and embody your essence as you move through divine ritual.
We will be playing, relaxing and resting throughout the weekend as well to carve out time to integrate all of these offerings, and soak in the love. 
Paddle-boards (and life jackets) will be provided for some play time at Causey Reservoir  on Saturday. You may choose to paddle, swim, or relax beachside as you wish! There will be more downtime to frolic, nap, and connect with all of the goddesses attending. 

All meals will be high vibrating, nourishing, hearty, plant based, farm to table experiences. We will have an onsite chef creating two catered meals(one breakfast and one dinner), eating outside on the farm in the fresh mountain air. The other meals will be prepared with loving intention by your hosts. There will be coffee, hand crafted botanicals teas, spring water, and womb supported treats throughout the weekend. *meals included are: dinner Friday, breakfast lunch and dinner Saturday, breakfast Sunday.
Please feel free to bring extra snacks or any special food you would like! There will be places to store a few things, but you're welcome to bring a small cooler as well. 
Each goddess will receive a gift bag filled with divine curated goodies.
**Check IN is Friday, June 30th at 11 am (opening ceremony is not until 3 pm, so check in is flexible)
**Check OUT is Sunday July 2nd at 2 pm
Attending all of the offerings is recommended for the full immersive experience, but not required. Following the flow of your own heart is always welcome and honored!
Yurt spots are shared with 4 women in each yurt. Tent spots can be shared or individual, but each individual will need a separate sign up + registration. Please reach out to me if you are coming with friends that you would like to stay with. 
*Please add your email when you register. You will be receiving a welcome email shortly after with directions, recommended items to bring, and a few follow up reminders in the coming months thereafter.
*PAYMENT OPTIONS AVAILABLE*
If you choose a payment option you will receive a follow up email with your welcome email to coordinate a date(s) for future payments. 
Initial deposit is non refundable. 
We are so excited to share this weekend with you! XOXO