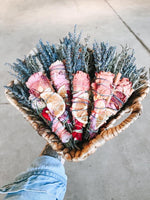 Handcrafted With Intention
Specializing in quality, handmade, botanical products created from locally foraged and sustainably-sourced herbs. Our hope is to replace or offer daily routines with products that are nourishing and abundant in your wellness, but also small rituals for you to connect with spirit through plant integration. Herbal tinctures, teas, ritual bath salts, wellness vinegars, botanical oils, loose incense, adaptogenic blends, candles, gifts and more. Thank you for shopping small, woman-owned, and supporting local! 
Handmade Archival Paper
We make everything from the pulp to final paper product. The fiber is beaten in a hollander beater, individually sheet formed, pressed and dried all inside our studio in Ogden, UT. Our variety of fibers, pigments, herbal enhanced, and other paper creations is sure to meet your needs. If you are looking for a custom or bulk order for wedding invitations, business cards, etc please call or email us to discuss your project! 
Workshops + Retreats

Cultivating creativity + mindful community connection
Plant potions

Connecting the mind, body, and spirit through botanical magic
Handmade Paper

Custom wedding invitations, cards, announcements + more. Handmade in Ogden, UT
Botanical Burn Wands

local, hand harvested smoke medicine
Botanical Art

Custom dried floral creations
Workshops + Retreats
Cultivating creativity + mindful community connection
Plant potions
Connecting the mind, body, and spirit through botanical magic
Handmade Paper
Custom wedding invitations, cards, announcements + more. Handmade in Ogden, UT
Botanical Burn Wands
local, hand harvested smoke medicine
Botanical Art
Custom dried floral creations