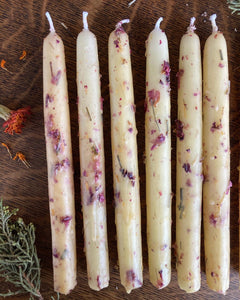 These beeswax taper candles are a great addition to your home, altar, sacred space, rituals and ceremonies. Light with purpose, celebrate with loved ones, and set your intention in motion using the element of fire. Use as an intention focusing tool, exercise your pineal gland, and let the flame be your guide.
Each candle is 8" and unique with herbal adornments. 
Ingredients:
100% beeswax, calendula, wild rose, lemongrass, lemon + eucalyptus eo. handcrafted with love and intention.